About our Initiative
Developing mobile apps and games with Adobe Air is a breeze, however sometimes it can be hard or impossible to implement some functions that may need native development, also there are no good UI components that work well for mobile apps that you can just drag and drop instead of going for third party libraries that requires a lot of coding and won't allow you to preview your layout.
Our initiative includes collection of ANE's and a kit of UI components that provide native look and feel without requiring you to write any extra code between platforms, create beautiful user interfaces with only a few clicks, develop powerful apps without writing native code.
How does the Adaptive UI work?
If you are using Flash Professional you just need to open the provided .fla file in the library, and then drag and drop in your application, each component have the necessary events so you can add your code easily. The UI detects the OS automatically, you don't need to do anything else, so far we support iOS and Android (Material Design).
If you are using another IDE you can simply link the provided .swc components.
What is an AIR native extension?
Native Extensions for Adobe AIR are code libraries that contain native code wrapped with an ActionScript API. Native extensions provide easy access to device-specific libraries and features that are not available in the built-in ActionScript classes. Examples of native extensions include making a mobile device vibrate, integrating ad-networks and in-app purchasing systems into your games, and using the iOS Game Center in your iOS games.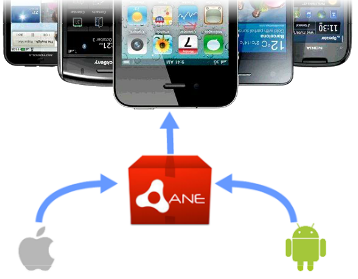 Native Extension List
| Extension Name | Android |    iOS |
| --- | --- | --- |
| Device Info | DONE | DONE |
| Shell commands and ROOT | DONE | N/A |
| USB Serial Communication | DONE | N/A |
| | | |
More extensions will be added soon…
UI Component List
UIButton
UITextInput
UISlider
UISwitch
UIRadioButton
More UI components will be added soon…
Download and support